Small Castle Bouncer - Hire Price $100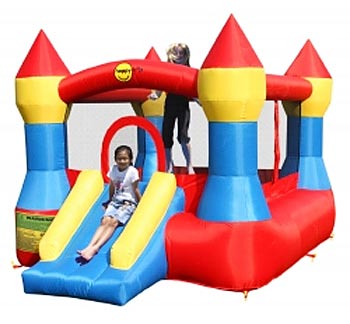 A Spacious yet compact Jumping Castle with a slide. Attractive bright color for parties. This jumping castle will give your kids loads of fun. Its compact size allows it to be used indoors, such as a Garage or Larger indoor room which means no matter how bad the weather on your special day you can still have a Bouncy Castle so no disappointments. The Perfect Size that isnt too large or overwhelming for a bunch of 2 and 3 year olds. Jumping area is 1.9m x 1.7m square (much the same as a King size bed)
This is a domestic grade castle which is made of a lighter weight material and is a great choice for toddler parties,
small enough to fit in most backyards, blower is quieter and overall is not so large and scary looking that some of the larger castles seem to appear to our wee ones.
THIS CASTLE IS STRICTLY FOR CHILDREN UNDER 5 YEARS OLD.
(It's the weight that counts so please if your 4 year old is the size of a 8yr old go for a commercial grade castle)
If you have any older children at your event we recommend you choose one of our commercial castles too.
PLEASE NOTE THIS CASTLE IS FOR PICKUP ONLY - A $100 BOND WILL BE REQUIRED. IF YOU NEED DELIVERY PLEASE ENQUIRE AS WE MAY BE ABLE TO MAKE ALLOWANCES BUT THIS CASTLE WILL NOT BE DELIVERED OUTSIDE OF OUR FREE DELIVERY AREAS.
Inflated size 3.55m (L) x 2.65m (W) x 2.15m (H)
Suitable for Children Under 5 Years old.